Orchestra Touch
Orchestra Touch has all the assets required to establish itself as the new benchmark among vending machines for the most demanding locations.
Among the other innovations, such as the the transparent, modular and reconfigurable VisioShop trays and the high levels of energy efficiency, this model features an intuitive and simple touch selection area. Product selection and access to nutritional facts are easy and immediate. The consumer can browse through the promotions and buy more than one item with a single purchase while the operator can create a tailor made offer for each location.
Orchestra Touch has an elegant design characterised by the black anodized aluminum cabinet which features an interface area in black metal with diamond frame. 
This model is available in both Food and Non Food version – for products such as PPE Equipment, perfect for offices. It can be fully customisable to your specific requirements.
Rent, lease or buy this machine. We do rental hire from as little as 1 day – great for weekend events or even for usage in film sets as props.
Contactless payment system can be fitted using Nayax Payments Systems which offers up benefits for businesses in the management and monitoring of the stock being sold and what remains.
A quality touch
Industrial Touch screen LCD 800×480 pixel, format 16:9 in portrait position.
Wide viewing angle of 60°/85° with a brightness level of 400cd/m².
A reliable screen which can last more than 50.000 hours.
Possibility to have combined selection, shopping tray mode available.
Possibility to set promotions, to diplay spot, slide show and complete nutritional information of the selected item.
High energy efficiency
The whole Orchestra range is equipped with a compact compressor and evaporator, whose efficiency allows to recuce the pull down time inside the cell, -30% compared to other Impulse models Necta.
Energy consumption can be reduced thanks to the extremely efficient insulation due to the latest generation foaming process, eliminating any thermal bridge between the cell to the outside.
The window benefits from a new insulation technology: the core is made of PVC and the external frame is in aluminium. Also the insulation of the delivery bin has been enhanced, thanks to a new internal PVC structure.
Visio Shop
The whole Orchestra range benefits of the Visioshop tray performances.
Visioshop is a transparent and refined tray, whose base and sides are made of transparent and long lasting material that allows the passage of the light. Consequently, the products inside the machine benefit from improved visibility.
Thanks to a metallic frame, VisioShop combines lightness and sturdiness: it can può support up to 53 kg of load, eliminating any tray bending.
Visioshop is modular and easily re configurable: the width of each selection can be changed according to the packaging size of the diplayed product (up to 10 single selections).
Height 1830 mm
Width 900 mm
Depth 790 mm
Weight 300 kg ca.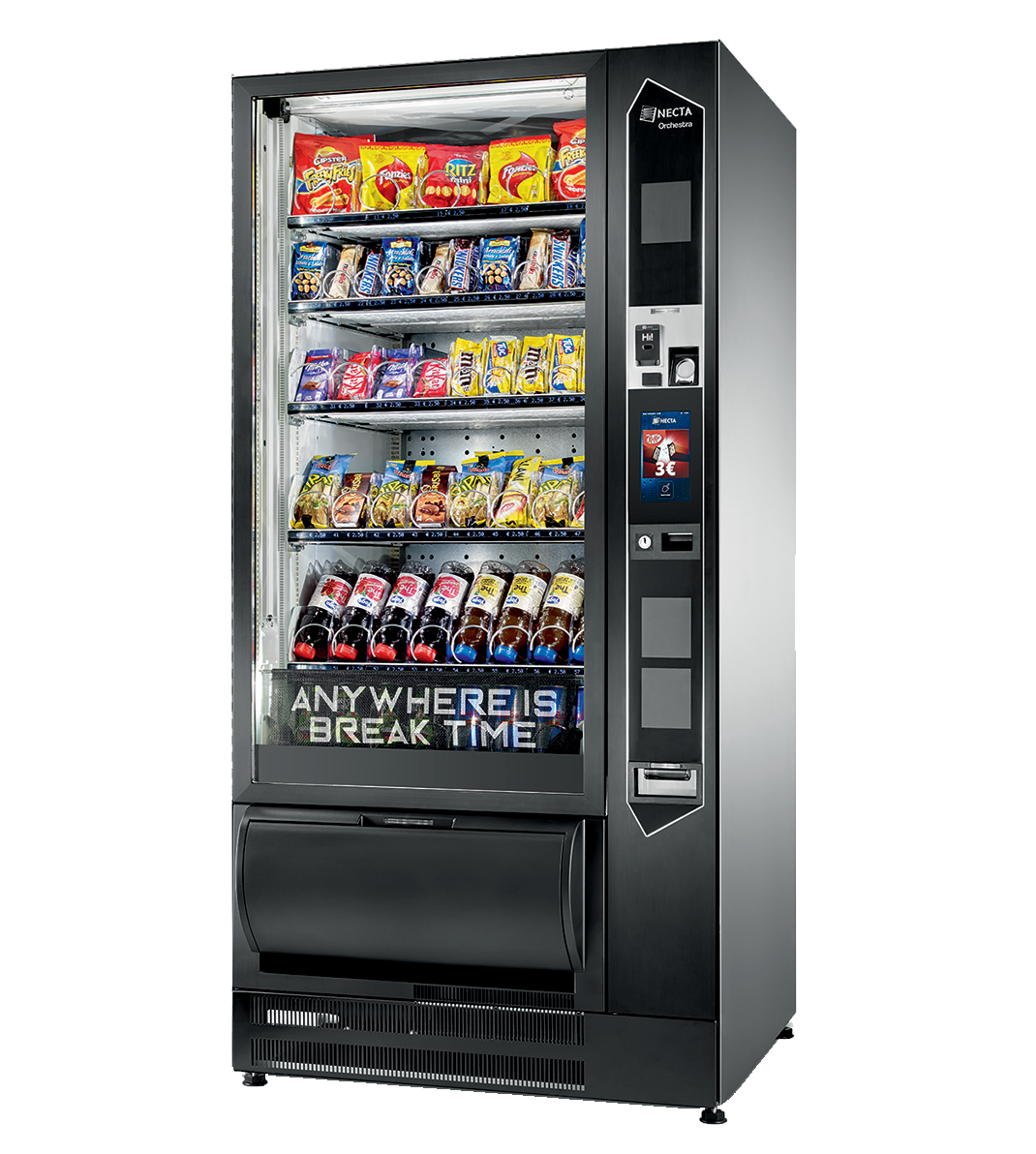 Pure Foods Systems is a family run business with over 50 years of experience in the vending industry. We specialise in supplying water coolers, coffee machines and vending machines from all the leading manufactures.

We supply all kinds of vending machines high quality; energy efficient snack vending machines to food vending machines to hot drinks vending machines. We can offer the perfect solution to suit your business.

We specialise in providing top quality ingredients at low prices. Our standard delivery is next working day if ordered before 2.00 PM and these items come straight out of a warehouse to deliver vending supplies.
Call us today at 0208 617 1516
or email: sales@purefoodssystems.co.uk
Please send any questions you need to know.