Orchestra-Snack & Drinks Machine
Orchestra
Flexible, elegant and innovative: ladies and gentlemen, here is Orchestra!
Orchestra is the new 8 spiral machine family with incredible performances that is designed for the most demanding of locations. Among the many innovations, the transparent, modular and reconfigurable VisioShop trays and the high levels of energy efficiency.
Moreover Orchestra has an elegant design: the black anodized aluminum cabinet features an interface area in black metal with diamond frame, which houses a wide color graphic display together with a capacitive numeric keyboard or a touch screen selection panel. 
Technological innovations, refined aesthetics, excellent performances: Orchestra has all the assets required to establish itself as the new benchmark among vending machines for the most demanding locations.
VisioShop
Visioshop is a transparent and refined tray whose base and sides are made of transparent plastic which allows the passage of  light with a consequent higher visibility of the products.
Thanks to a metallic frame, VisioShop can stand up to 53 kg loads avoiding any bending.
Visioshop is modular and reconfigurable:the width of the selections can be easisly increased or decreased according to the product offer (up to 10 single selections)
The highest energy efficiency
Orchestra features a compressor and evaporator with compact dimensions, whose efficiency allows to reduce the pull down time inside the cell, -30% compared to other Necta models.
The energy consumption is reduced thanks to the extremely efficient foaming insulation of the cabinet, which avoids any thermal bridge from the cell to the outside.
The frame of the window has a new insulation technology, with a core of PVC and the external in aluminium. Also the insulation of the delivery bin has been enhanced thanks to a new internal PVC structure.
An enhanced user experience
Orchestra features a user friendly interface with a numeric capacitive keypad for product selection and a large TFT display with 16 millions colours which can show nutritional facts, animated slide show or video.
This model benefits of well known and highly appreciated dispensing technologies such as the product elevator Softvend and the automatic opening/closing of the delivery bin which make the purchase process easy and safe.
The high visibility of the cell enhances the purchase experience and attracts more customers.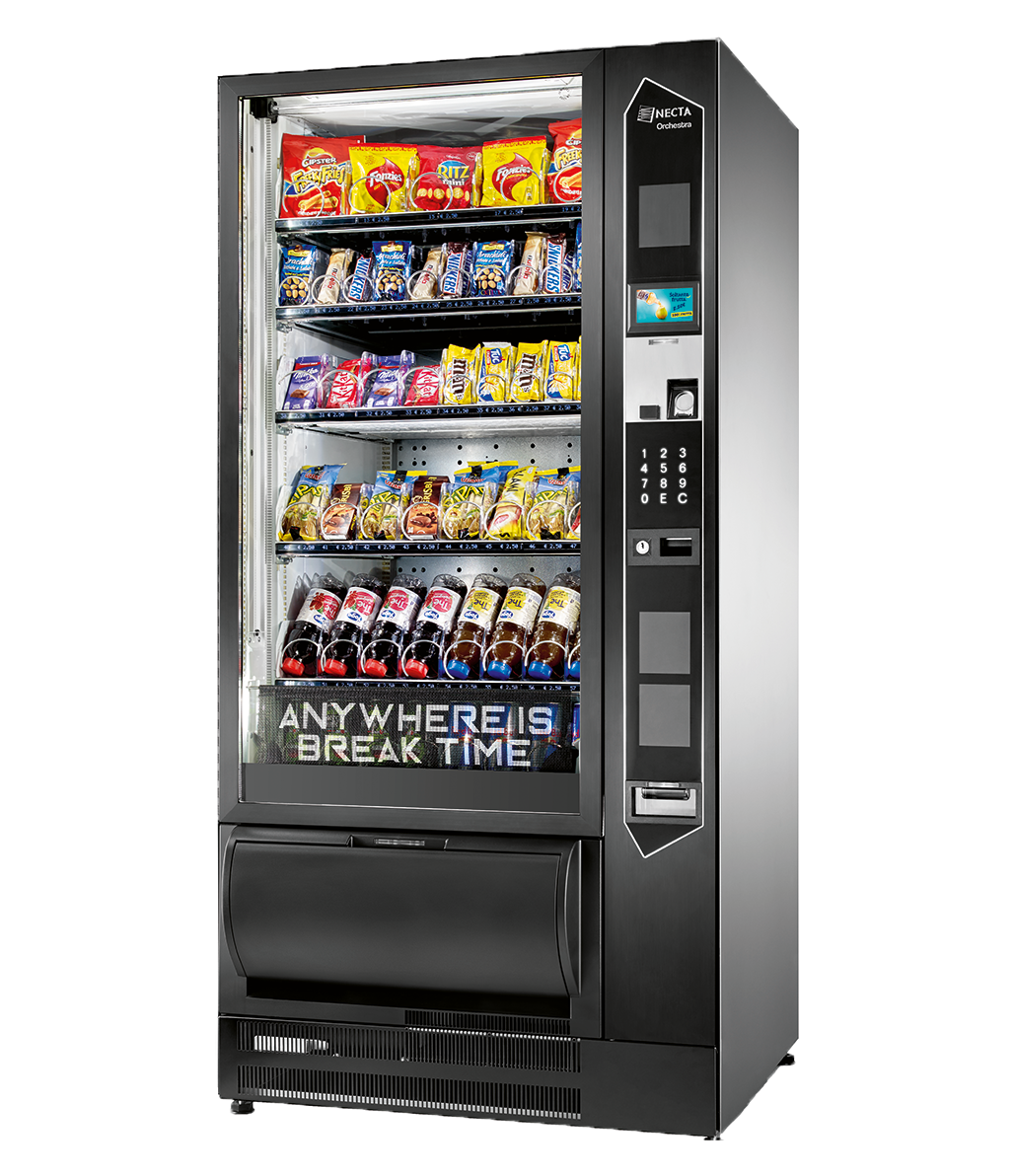 Pure Foods Systems is a family run business with over 30 years of experience in the vending industry. We specialise in supplying water coolers, coffee machines and vending machines from all the leading manufactures.

We supply all kinds of vending machines high quality; energy efficient snack vending machines to food vending machines to hot drinks vending machines. We can offer the perfect solution to suit your business.

We specialise in providing top quality ingredients at low prices. Our standard delivery is next working day if ordered before 2.00 PM and these items come straight out of a warehouse to deliver vending supplies.
Call us today at 0208 617 1516
or email: sales@purefoodssystems.co.uk
Please send any questions you need to know.