The BevMAX 4 is a classic Crane product. Durable and reliable, the machine is available in two model sizes, 35 and 45 selection.
The large illuminated glass front of the BevMAX 4, lit by long-life, low energy LED lighting provides consumers with a clear, unobstructed view of all products available, allowing maximum salves impact.
The BevMAX 4 has a self-contained modular refrigeration deck, offering improved performance. This fridge deck can be removed easily from both the back and front of the machine.
BevMAX 4 Options
The BevMAX 4 comes in two sizes to suit multiple location types.
45 Selection Model
Standard of 5 trays
45 Products
Capacity of 405 items
35 Selection Model
Standard 5 trays
35 Products
Capacity of 315 items
Reduce Your Carbon Footprint
The BevMAX 4 is one of the most energy efficient vending machines on the market. It exceeds the tier 2 Energy Star requirements by over 30% and has achieved an EVA EMP rating of A++.
Better for the environment, better for your energy consumption.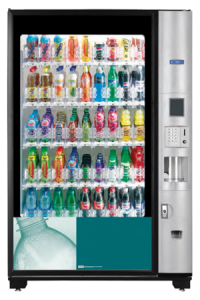 Pure Foods Systems is a family run business with over 50 years of experience in the vending industry. We specialise in supplying water coolers, coffee machines and vending machines from all the leading manufactures.

We supply all kinds of vending machines high quality; energy efficient snack vending machines to food vending machines to hot drinks vending machines. We can offer the perfect solution to suit your business.

We specialise in providing top quality ingredients at low prices. Our standard delivery is next working day if ordered before 2.00 PM and these items come straight out of a warehouse to deliver vending supplies.
Call us today at 0208 617 1516
or email: sales@purefoodssystems.co.uk
Please send any questions you need to know.