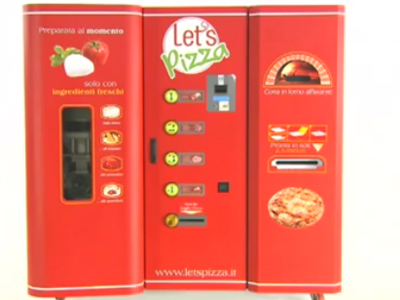 Australia launched its first pizza vending machine this week and the success has been such a hit, owner George Pompei is already considering installing more machines.
The machine, which cost $40,000 has been launched in Westfield Chatswood in Sydney and can vend two types of pizza to customers – margarita and hot salami – within just three minutes of payment received.
The pizzas cost $12 and have been a huge hit. Called the Pizza Gio, owner Pompei was inspired by pizza vending machines he had come across and sampled in Italy. Pompei is also the owner of the pizza and pasta restaurant Pizza Gio in Bondi Beach.
Although initially sceptical about whether the pizza vending machine would be a hit in Australia, the response has prompted the restaurant owner to consider rolling out more machines in other locations.
Taking two years to develop the machine, Pompei was committed to providing a vending machine which could deliver a fantastic product that could rival a pizza restaurant.
The pizzas are made using extra virgin olive oil, stone ground flour, natural yeast and sea salt. The dough is then rested for a couple of days before it is rolled out and topping added.
Pompei then par-bakes the pizzas in a stone oven before blast chilling them and then placing them into the pizza vending machine, which operates at the optimum temperature and heats the pizzas to the correct temperature. the pizza vending machine has tight controls on temperature management. Another fantastic illustration of how vending machines are able to be verstile, popular, highly technical and incredibly profitable.