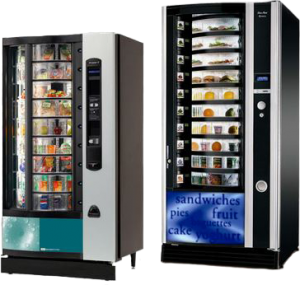 Offer your staff members more by providing vending machines for them to purchase snacks and drinks during their work. At PureFoodsSystems, we stock a wide range of machines which work brilliantly within a wide variety of businesses including office blocks, construction sites, schools, gyms, leisure centres, dance studios, fitness centres, magazine and newspaper publishers, sports stadiums and many other similar establishments.
We have a wide variety of healthy snacks, drinks and non-consumable products which can be dispensed to your members. Using PureFoodsSystems's vending machines, you will be supplying your members with a cafe type service but the delivery will be excellent, around the clock and consistent.
The machines we have can run on a dual temperature which means they can provide members with cooled drinks such as fruit juices as well as healthy snacks such as fruit flapjacks.
Not only do our machines benefit your customers, take the pressure off of staff and overheads by removing the cafe set up and deliver thoroughly researched drinks and snacks, but they also mean that you can concentrate on running your core business.
For more information about the machines we have available to our customers or to ask for advice, please call us today and we will be happy to help.