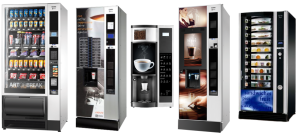 When it comes to vending machine manufacturers, here at Pure Food Systems we have strong working relationships with them all. Due to our longstanding presence in the vending machine industry, we have built relationship with key players in the vending machine marketplace, including operators, product suppliers, other vending machine suppliers and vending machine manufacturers.
In the United Kingdom alone there are dozens of vending machine manufacturers. Some of the top companies are:
Klix: most known for their drink machines, Klix do offer vending machines which cater for food products too
Westomatic: A vending machine supplier and manufacturer, offering the Sigma Touch, Juice Box and more
Seaga UK: Offering full line, company and mechanical vending machines this is a good manufacturer in the UK
DarenthMJS: Supply their machines to the UK and to Europe
There are many other manufacturers in the United Kingdom who work tirelessly to create new technologies and more reliable and robust vending machines for vending machine businesses to use.
At Pure Food Systems we know each of the machines which each of these manufacturers produces and we are able to supply their vending machines to our customers. We can also carry out maintenance and refurbishments to these manufacturer's machines.