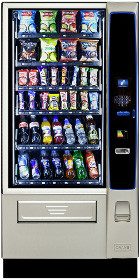 Not everyone wants to buy a vending machine and some companies unfortunately do not qualify for a free vending machine. But do not fear! We offer an alternative to customers who do not wish to, or cannot afford to buy, a vending machine from us; we offer a hiring service.
Many clients find hiring a vending machine a better option for them. This could be the case for a great number of reasons. For instance, some companies are not 100 per cent sure whether a vending machine will be successful in their building or company and do not know whether there is a high demand. They may think there is a lot of potential for a vending machine but do not want to take the risk of spending lots of money buying a vending machine so they choose to hire instead. This way they can see if the vending machine will be a success in their company, without the large one-off payment.
Other companies know there will be a high demand for vending machine products, but prefer to hire the machine as it is a better financial alternative for them.
Whatever the reason, we offer a very competitive vending machine hire service. Call us today for more details about our hiring service.