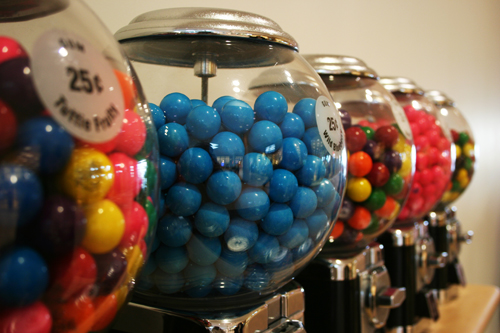 "Gacha-Gacha" toys are proving a big hit in Japanese vending machines.
Gacha-Gacha toys are small toys contained within a plastic ball which are vended from machines across Japan. Sold closed, it is unknown what toy the purchaser will receive but each machine contains a different version of the same kind of toy. For instance, a popular Gacha Gacha toy is of a woman dressed in an office uniform who sits on the edge of drink cups in various poses. In fact, the "Koppu no Fuchiko" figurines have sold more than 6.5million of the little 5cm resin statues.They cost 200 Yen or $2.45 per toy which is vended through the Gacha Gacha toy vending machine.Toy Vending Machine
Although the Gacha Gacha vending machines initially sold the Gacha Gacha toys to children, there are an increasing number of toys tailored to adults now. These toys are becoming increasingly popular as people purchase them for a bit of fun.
Originally these machines were founded in the United States but their success has mainly been found in Japan.
The Gacha Gacha machines have seen great results financially. Despite taking a dip in recent years, the sales have risen in the last two years as the popularity of the litre figurines has soared.