Samba Touch-Snack & Drinks Machine
Samba Touch
Taking Vending to the next level
Take all the features of Samba you've been appreciating in these years and combine them up with a touch interface. Then you get Samba Touch! With Samba Touch, access to products and information is easy and immediate, using a simple, intuitive and interactive interface. Samba has the capacity to offer a wide variety of products such as snacks, confectionery, cans or bottles – or even non-food items such as PPE Equipment. Perfect for offices. It can be fully customisable to your specific requirements.
With the touch screen, you can browse through the products on sale, and buy multiple items in a single transaction. Products are also grouped into categories to make browsing for your item easier. For each product, you can also select a screen which contains nutritional information . The operator can tailor deals to specific locations – as well as setting up discounts based on the quantity of products in the basket. Contactless payment system can be fitted using Nayax Payments Systems which offers up benefits for businesses in the management and monitoring of the stock.
Rent, lease or buy this machine. We do rental hire from as little as 1 day – great for weekend events or even for usage in film sets as props.
Touch screen interface
7″ Touch screen interface with a customizable products menu which can be browsed by category by the user.
Samba Touch offers a "basket facility" which enables multi-buy discounts and enhances profits.
The user can get nutritional information of the selected product.
Design and configuration
Flexible configuration that can offer snack, cans, bottles and food – as well as non-consumable products.
All trays are equipped with ETL – electronic price labels.
Elegant alumininum door with bright polycarbonate inserts LED lighting of the cell.
Electronics
N&W platform with 16 bits electronics and 4 MB flash memory.
Remote management of prices and promotion on the trays with ETL (electronic tray labels).
Data collection in line with EVA-DTS standars, using GIGA software IRDA compatible.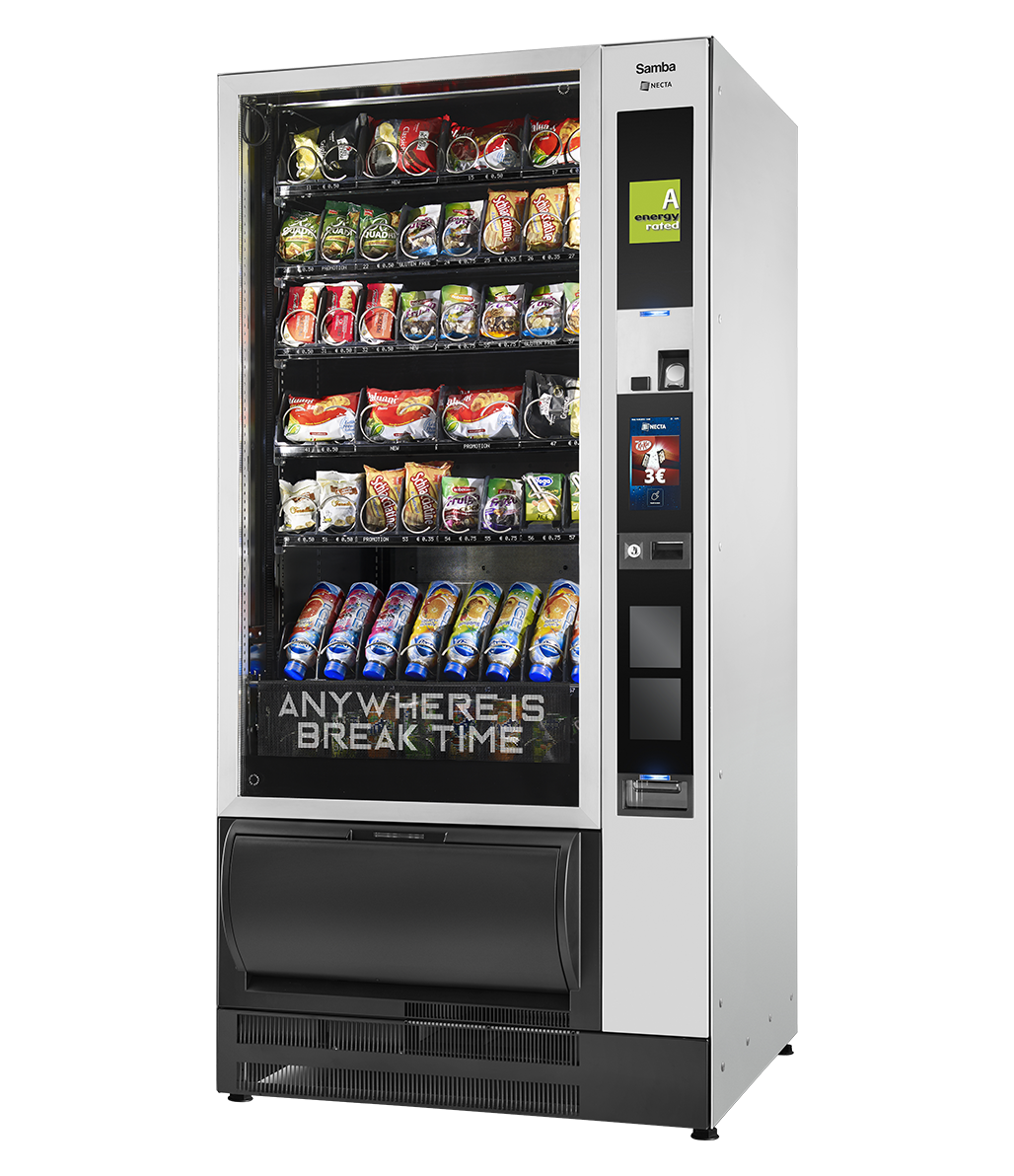 Pure Foods Systems is a family run business with over 50 years of experience in the vending industry. We specialise in supplying water coolers, coffee machines and vending machines from all the leading manufactures.

We supply all kinds of vending machines high quality; energy efficient snack vending machines to food vending machines to hot drinks vending machines. We can offer the perfect solution to suit your business.

We specialise in providing top quality ingredients at low prices. Our standard delivery is next working day if ordered before 2.00 PM and these items come straight out of a warehouse to deliver vending supplies.
Call us today at 0208 617 1516
or email: sales@purefoodssystems.co.uk
Please send any questions you need to know.