The Merchant MEDIA Touch provides the ultimate vending experience, offering industry leading technology to help drive sales and consumer satisfaction.
Flexible shelf configurations
Interactive touch screen control
SureVend Technology
Shopping cart multi-vend features
Customised graphics to attract customers
Temperature range from 0 – ambient
Health control zones
Disability height compliant
A rated energy efficiency
Also available in Keypad
What is Crane MEDIA?
MEDIA is Crane's industry leading vending technology, paving the way to the ultimate vending experience. MEDIA's three key goals are:
Attract Customers
Custom Graphics
Modern Design
Touch Screen
Maximise Sales
Digital Advertising
Cashless Payment
Shopping Cart
Mobile Pay
Remote Management
Performance Monitoring
Software Updates
Screen Content
Plan-o-grams
Pricing
This is achieved through Crane's Apps: Intelligent Store, Custom Storefront and Digital Advertising.
Intelligent Store
Intelligent Store empowers operators of Crane MEDIA equipment to be managed remotely. Receive sales data, machine alerts and deliver content over the air.
Real time alerts via Email
Digital Product Advertising
Custom Screen Messaging
Retail Insights Performance Reports
Automatic Software Updates
Remote Planogram & Price Management
Intelligent Store ensures you are always up to date and getting Crane's latest improvements, it drives product sales through advertising and promotes consumer engagement with custom messaging.
Intelligent Store is powered by Streamware Connect, for a product brochure, click here.
Custom Storefront
Custom Storefront can be used to win new business with great looking, customised graphics and offer the opportunity to promote end location brand images. Custom Storefront also attracts consumers and can have integrated instructions for a simpler and more intuitive user experience.
Integrated service door visuals and information
Stunning vinyl print side and front graphics
Custom screen content images
With Custom Storefront, promote your brand, provide users with direction and keep your machine looking fresh to drive sales.
Reduce Your Carbon Footprint
At Crane, we endeavour to reduce the environmental impact of our machines. We are always working towards better and greener technologies such as CO2 and hydrocarbon refrigeration.
This is why our Merchant is A++ rated, better for the environment and better for your energy consumption.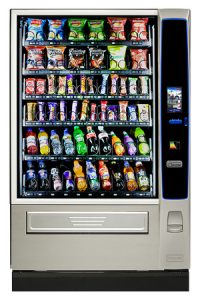 Pure Foods Systems is a family run business with over 50 years of experience in the vending industry. We specialise in supplying water coolers, coffee machines and vending machines from all the leading manufactures.

We supply all kinds of vending machines high quality; energy efficient snack vending machines to food vending machines to hot drinks vending machines. We can offer the perfect solution to suit your business.

We specialise in providing top quality ingredients at low prices. Our standard delivery is next working day if ordered before 2.00 PM and these items come straight out of a warehouse to deliver vending supplies.
Call us today at 0208 617 1516
or email: sales@purefoodssystems.co.uk
Please send any questions you need to know.