Festival Classic – Impulse Dispenser
Festival Classic completes the renewal of Necta's drum range offering an excellent price/performance ratio and uncluttered design. It is the smart solution for locations needing to offer catering services 24/7. 
The extreme flexibility of configuration allows the user to choose among snacks, drinks, fresh dishes, fruit, yoghurt as well as non-consumables such as PPE Equipment. 
It can be fully customisable to your specific requirements.
Rent, lease or buy this machine. We do rental hire from as little as 1 day – great for weekend events or even for usage in film sets as props.
Festival Classic delivers a complete offer of products (from non alimentary goods to fresh food) and has the possibility to set up the layout of each drum according to the location's need.
Inside the cell the space is optimized at any drum level in order to display the best product offer.
Moreover with this model it is possible to stratify different temperatures according to the location and to the product.
Festival Classic has a new aesthetics with LED lighting of the front panel and of the internal part of the cell.
The black front panel at the bottom of the machine is easy to customize with stickers.
New user interface design is aligned with the latest Necta models.
Festival Classic features a large graphical display and a round FIFO shopper button.
This model allows an immediate and intuitive creation of machine setup with GIGA New software.
The main menu is  easy to surf .
Thanks to the highly insulated cabinet and the enhanced energy saving mode Festival Classic grants a lower energy consumption
| | |
| --- | --- |
| User interface | Direct selections |
| Height | 1830 mm |
| Width | 850 mm |
| Depth | 859 mm |
| Depth open | 1630 mm |
| Weight | 320 kg |
| Voltage | 230 V |
| Frequency | 50 Hz |
| Configuration | Snacks + Food / non food / cans |
| Num drums | 8 or 10 |
| Drum height | 90 – 130 mm |
| Num compartments disk | From 6 to 36 |
| Product capacity | Up to 108 |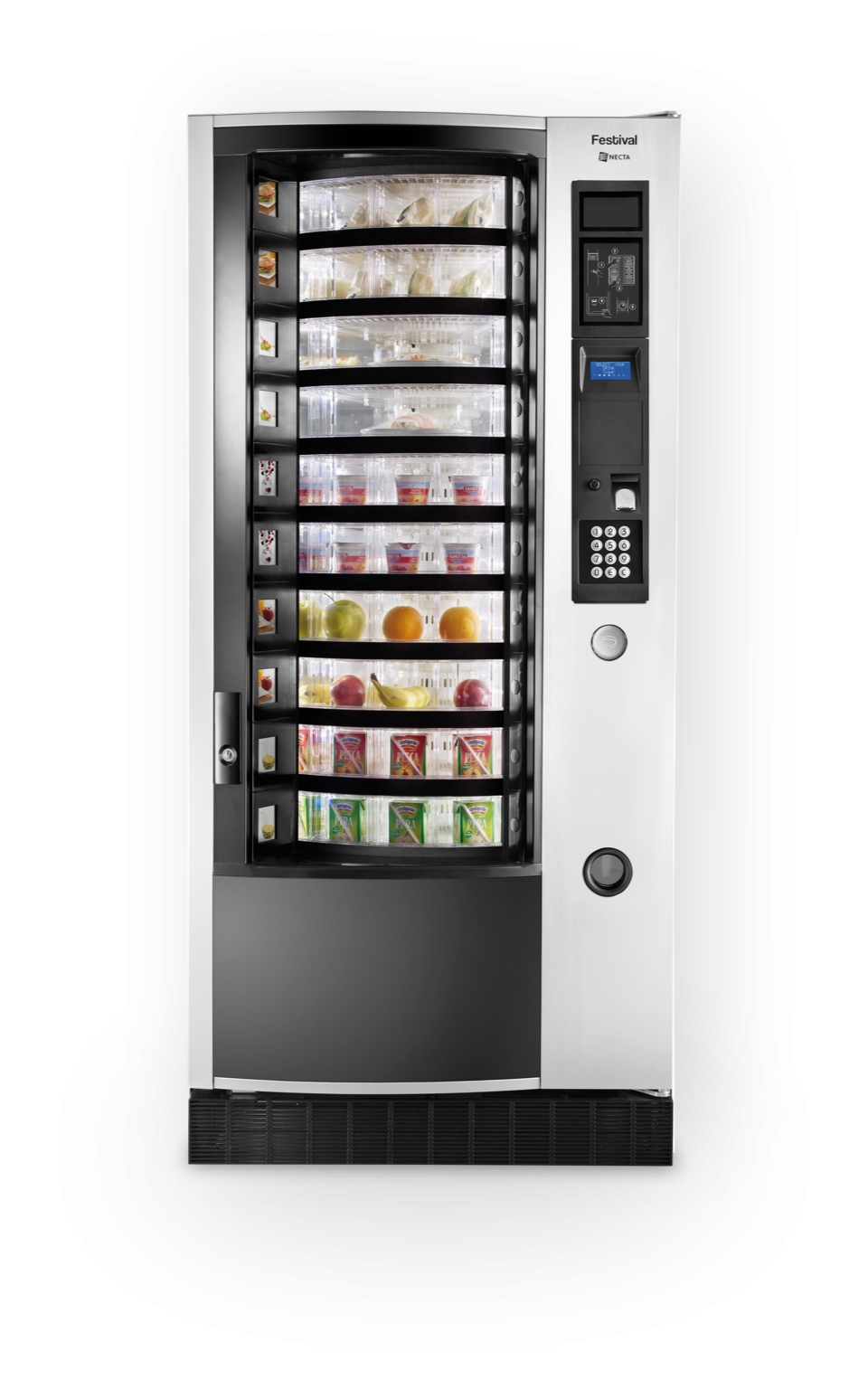 Pure Foods Systems is a family run business with over 50 years of experience in the vending industry. We specialise in supplying water coolers, coffee machines and vending machines from all the leading manufactures.

We supply all kinds of vending machines high quality; energy efficient snack vending machines to food vending machines to hot drinks vending machines. We can offer the perfect solution to suit your business.

We specialise in providing top quality ingredients at low prices. Our standard delivery is next working day if ordered before 2.00 PM and these items come straight out of a warehouse to deliver vending supplies.
Call us today at 0208 617 1516
or email: sales@purefoodssystems.co.uk
Please send any questions you need to know.