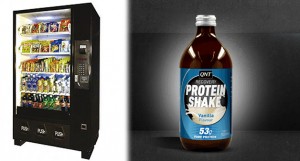 Vending machines are a great way of providing an extra service to your customers, staff members and the general public while also earning some extra finances. Gyms are no different. In fact, they are a fantastic place to use a vending machine due to the heavy footfall and the nature of the business; many people would benefit from a drink or a snack before, during or after a workout.
Food is an important consideration while exercising as it is vital to keep energy levels up. Access to snacks and drinks is a great way to offer that additional service to your gym members. The same goes for leisure centres or any centre which runs sports and exercise.
Products which work well within gym-based vending machines are items such as energy drinks, energy snacks, fruit, water, sweatbands, towels and more. In fact our BevMax 45 can supply a whole host of consumable and non-consumable items with its 495-product capacity.
For more information about our gym vending machines or to ask us to visit the site you are thinking of introducing a vending machine to, please do not hesitate to contact us today and one of our friendly team will be happy to help.