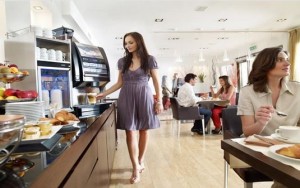 Businesses are becoming more and more aware of, and focused upon, the health and the wellbeing of each of their workers and this is what they promote within all of their marketing material. The message they portray is a very strong one, and one which is consistent. This message centres on the importance of keeping fit and healthy, regular exercise and maintaining a balanced diet.
During our market research we have found there are many gyms which also provide a cafe facility or even an over-the-counter retail service. For those that provide the latter, theft of items can be an issue and for both of these services, staff are fulfilling roles they are often not passionate about.
This is why at PureFoodsSystems we provide gyms with vending machines. So many of our gym clients tell us they wished they had chosen to use a vending machine sooner because vending machines are accessible 24/7, unlike the staff required to run a cafe service. They also remove the issue of theft and provide an additional income without a costly overhead in the form of staff and running costs. In fact, many gyms run a cafe service at a loss.
Paying for the items couldn't be easier as we are introducing cashless payments to each of our machines, meaning clients can pay for their goods using credit and debit cards, prepaid cards, mobile phones and more.