Can vending machines are a great machine to install in just about any establishment and location. There are, obviously, better places to install a can vending machine than others but it's one of the vending machines which you just can't really go wrong with because it's so versatile and canned drinks are almost always in demand.
Some of the locations at which our customers have positioned their can vending machines are: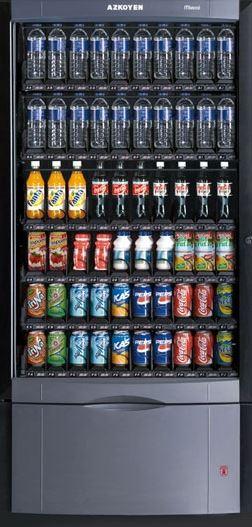 Schools
Universities
Hospitals
Doctors surgeries
Waiting rooms
Gyms
Leisure centres
Offices
Sports arenas
Train stations
Service stations
Shopping malls
Can vending machines are in high demand when it comes to both our customers looking for good quality machines which will stand the test of time and the high traffic flow, and customers who use the can vending machines. A whole range of drinks can be stocked in a can vending machine including bottled drinks despite the name of the vending machine. For instance, it is very rare to find a can of water; water almost always comes bottled. The cans are dispensed ice cold for the customer and are easily vended from the machine in a way which does not cause the can to fizz up.
Can vending machines are cheap to run and restock and can offer a tidy profit. They are not the most lucrative of machines but they are very reliable in terms of consistency in sales.